Viola Beach manager drove through barriers into bridge, inquest told
Viola Beach manager drove through barriers into bridge, inquest told
Craig Tarry, 32, was behind the wheel of the band's hire car when it crashed and fell 80ft into frozen shipping canal in Sweden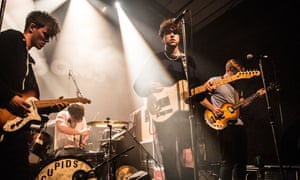 Four members of a British indie band and their manager died after their car crashed through two motorway barriers before striking a bridge and falling 80ft (25 metres) into a shipping canal, an inquest has heard.
Craig Tarry, the 32-year-old manager, was driving the band back to a hotel in Stockholm in the early hours of the morning after they had played at a Swedish music festival.
Singer Kris Leonard, 20, guitarist River Reeves, 19, drummer Jack Dakin, 19, and Tarry died from head injuries. Bass guitarist Tomas Lowe, 27, drowned.
Leonard was in the front passenger seat. Reeves, Dakin and Lowe were in the back of the vehicle and were not wearing seatbelts.
The bridge over the Södertälje canal, 18 miles west of Stockholm, was raised while a tanker passed underneath when the band's rented Nissan Qashqai overtook queueing traffic. Witnesses said the car clipped the wing mirror of a taxi, hit two barriers, and crashed into the bridge at 50mph, despite signs warning that the bridge was up.
In a statement, Lars Berglund, one of the investigating police officers, said the crash happened at about 2am on 13 February this year.
The inquest in Warrington was shown CCTV footage of the Nissan stopping behind other cars at the barrier before squeezing past them on the hard shoulder and through the first of the barriers. The vehicle went through another barrier at speed before striking the partly opened open bridge and falling 80ft into the canal.
The car was found upside down at the bottom of the freezing canal, from which divers recovered all five bodies.
Postmortem examination results showed that Tarry did not have any traces of alcohol or drugs in his blood at the time of the crash.
The inquest continues.